Layered Objects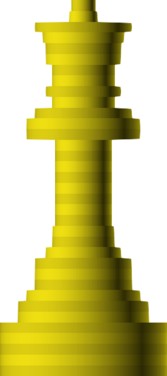 Cosa sono i "Layered Objects"

Si tratta di eleganti oggetti in legno, prodotti dalla ElektroSoft, in modo artigianale. La particolarità consiste nella loro struttura stratificata. Ogni campione, infatti, è composto da alcuni "dischi" circolari sovrapposti, dallo spessore di circa 9 mm. e opportunamente lavorati, in modo da ottenere la forma desiderata. Relativamente ai pezzi degli Scacchi, sotto la base viene applicato un elegante pannetto verde scamosciato. La procedura di produzione avviene nel seguente modo:

What are "Layered Objects"


These are elegant wooden objects, produced by ElektroSoft, in a manual way. The peculiarity consists in their stratified structure. Each sample, in fact, is composed of some overlapping circular "disks", about 9 mm thick. and properly worked, so as to obtain the desired shape. Regarding the pieces of the Chess, an elegant suede green cloth is applied under the base. The production procedure is as follows:


| | | |
| --- | --- | --- |
| The customer chooses the preferred form. It can be a chess piece, a vase, or a generic solid of rotation. | Il Cliente sceglie la forma preferita. Può essere un pezzo degli Scacchi, un vaso, o un generico solido di rotazione. | |
| ElektroSoft creates the related Silhouette using a graphic procedure. | La ElektroSoft crea la relativa Silhouette tramite procedura grafica. | |
| Thanks to a proprietary software of ElektroSoft, it is possible to obtain the number and the quotas of the single wooden disks. | Grazie a un software proprietario della ElektroSoft, è possibile ottenere il numero e le quote dei singoli dischi di legno. | |
| Thanks to another proprietary software, the 3D model of the object can also be obtained. | Grazie ad un altro software proprietario, si può ottenere anche il modello 3D dell'oggetto. | |
| With a long process of measurement, cutting, shaping and sanding, many wooden discs of different sizes are obtained. | Con un lungo lavoro di misura, taglio, modellatura e levigatura, si ottengono molti dischi di legno, di diverse dimensioni. | |
| After a long work of overlapping, gluing and finishing, the object is ready. | Dopo un lungo lavoro di sovrapposizione, incollaggio e finitura, l'oggetto è pronto. | |
---
Alcune realizzazioni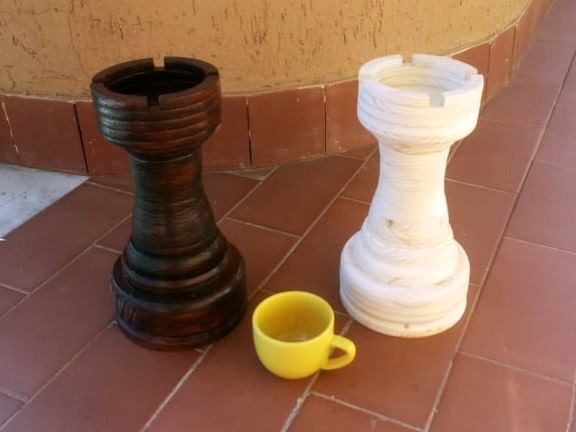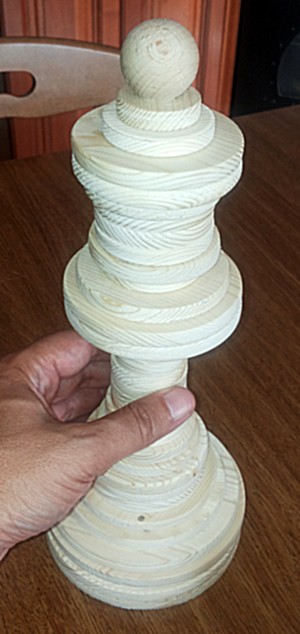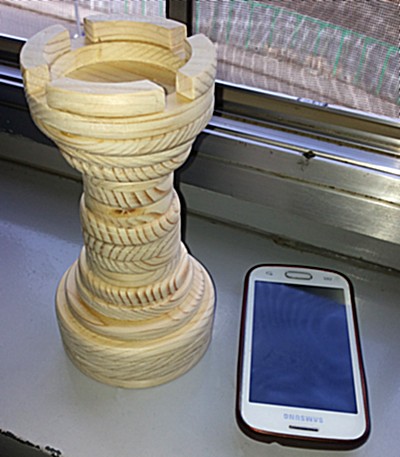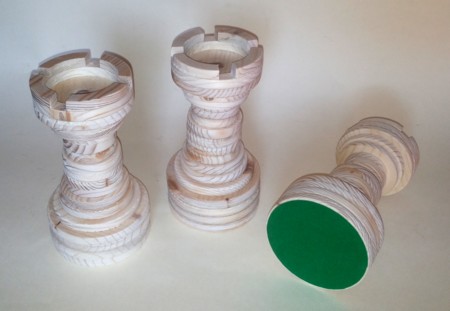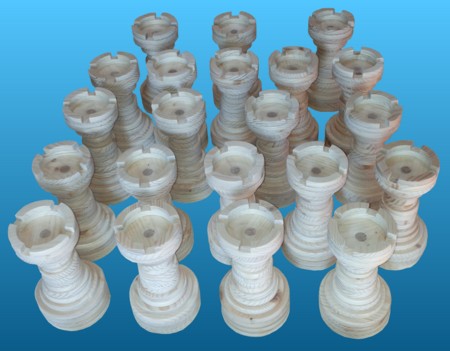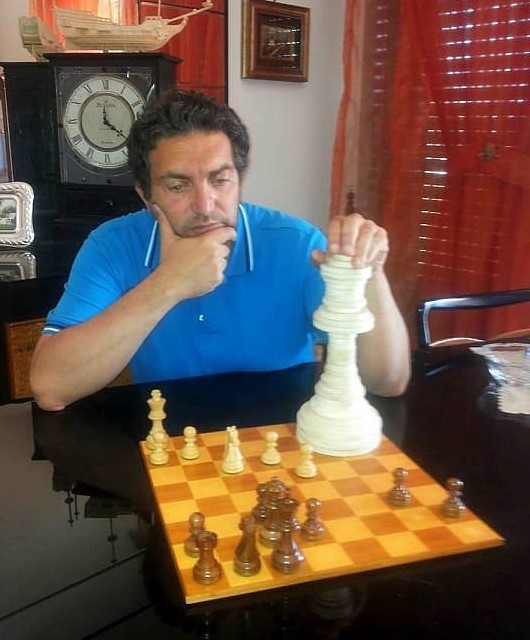 ---
Info, Preventivi ed Ordini
Per richieste di informazioni, preventivi e ordini contattateci inviando una email. Saremo lieti di risponderVi.
For inquiries, quotes and orders contact us by sending an email. We will be glad to answer you.
---
Listino Prezzi
Le spese di spedizione non sono comprese
Sconti per quantità



Torre degli Scacchi
Misure: diametro alla base x altezza
8.5 cm. x 15 cm.
Peso: 200 gr.

€ 32,00




Donna degli Scacchi
Misure: diametro alla base x altezza
12.5 cm. x 28 cm.
Peso: 300 gr.

€ 48,00


















---